Haploid and Diploid Maize Seeds Dataset
Contact: Yahya Altuntaş, Zafer Cömert, Adnan Fatih Kocamaz
We present a dataset for evaluating the identification accuracy of haploid and diploid maize seeds according to R1-nj color marker.
The dataset includes totally 3,000 images of maize seeds as 1,230 haploids and 1,770 diploids were produced by crossing the maternal haploid inducers RWS/RWK76 with 107 source genotypes. The seeds were selected to reflect the different expressions of the R1-nj color marker. The source genotypes are in 450-700 (FAO) maturity groups and these are yellow dent and waxy grain types. The resolutions of the images in the dataset vary between 300-by-289 pixels and 610-by-637 pixels depending on seeds size.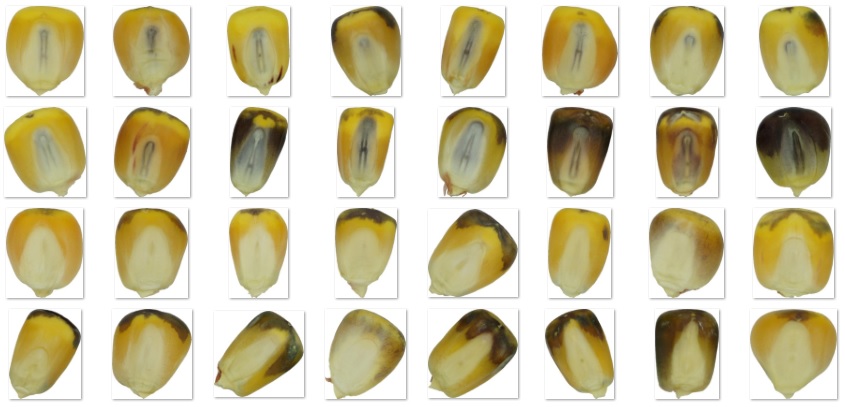 License
Haploid and Diploid Maize Seeds Dataset is licensed under a Creative Commons Attribution-NonCommercial-NoDerivatives 4.0 International License.
Download Dataset
Related Publication
Please refer to the related publication when using this dataset.
Y. Altuntaş, Z. Cömert, and A. F. Kocamaz, "Identification of haploid and diploid maize seeds using convolutional neural networks and a transfer learning approach," Comput. Electron. Agric., vol. 163, p. 104874, Aug. 2019. https://doi.org/10.1016/j.compag.2019.104874.
Export citation to RIS, BibTeX or Text